TRIP TO ASIA
TRIP TO ASIA, the first film about the mysterious inside life of the BERLINER PHILHARMONIKER is a breathtaking trip into the ego of this very special community of individuals. An inspiring film about the power of music, the challenge of finding harmony and the art of living – together.
THE QUEST FOR HARMONY
Theatrical documentary by THOMAS GRUBE
GER/UK, 110 min., HD, 35mm/DCP, Dolby Digital
From all over the world they have come to join a 125 year-old tradition of excellence. They have fought their way to the very heights of their profession, masters of their craft, second to none. They are individuals each with different paths, different histories, united in their singular passion: musical perfection.
On a journey to the farthest reaches of Asia, they will come together to create an experience, live, on-stage, for sold out audiences who have come to bear witness to this tradition, to share one moment between two cultures, and bridge the gap between East and West through a universal language.
Award winning director THOMAS GRUBE and his distinguished film crew take you on a motion picture journey with the musicians of the BERLIN PHILHARMONIC and their conductor SIR SIMON RATTLE as they set off on a breakneck concert tour of six of the most dynamic and electrifying metropolises across Asia:
Beijing, Seoul, Shanghai, Hong Kong, Taipei and Tokyo.
Featuring the inspired and timeless music of THOMAS ADÈS' 'Asyla', BEETHOVEN's 'Eroica' and RICHARD STRAUSS' 'A Hero's Life' ('Ein Heldenleben').
126 musicians, all masters of their craft, each with their own unique personalities have come together to channel their individual skills and harness their virtuosity – on a single mission of creating the celebrated Orchestra's distinctive sound. But their artistic triumph onstage belies a dynamic and dramatic life backstage: The BERLIN PHILHARMONIC is a closed society that observes its own laws and traditions, and in the words of one of its musicians is, "an island, a democratic microcosm – almost without precedent in the music world - whose social structure and cohesion is not only founded on a common love for music but also informed by competition, compulsion and the pressure to perform to a high pitch of excellence... ."
"All of us go through something which demands that pulling together of two disparate parts", says SIMON RATTLE.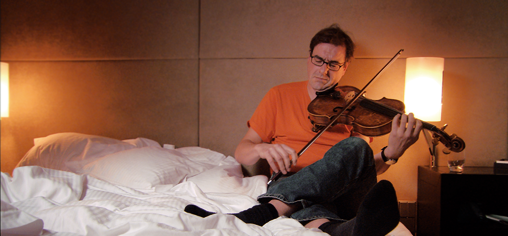 In the midst of the vibrant urban jungles of Asia, TRIP TO ASIA relates the eternal struggle between ego and community, the age-old and daunting quest for harmony with oneself and one's neighbors. A deeply personal musical excursion into the overlapping borderlands of melancholy, enthusiasm, loneliness and yearning, an adventure that uses fascinating images and intoxicating sound to distill a universal story of humankind and society into a breathtaking cinematic experience.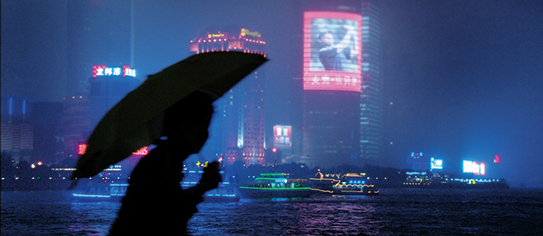 For the first time this set of eminent individualists has let itself be followed, on and offstage, by the camera's eye. Never before has such a film been made.
"At the very centre of what we are is this group of people who are expressing their deepest feelings together and we have to do this very hard mysterious thing that no one can define; what makes a great orchestra?"

SIR SIMON RATTLE, conductor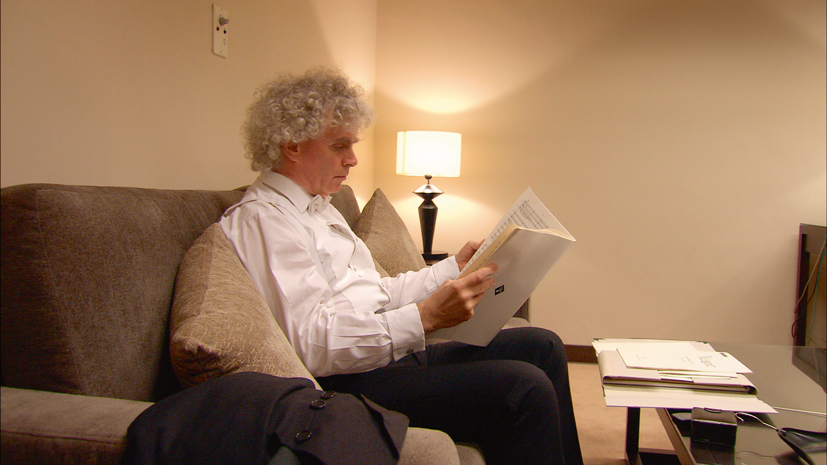 We journey through the inquisitive lens of cameramen ANTHONY DOD MANTLE (Festen, 28 Days Later, Dogville, Manderlay, Last King Of Scotland), ALBERTO VENZAGO (Robert Capa Award winner) and RENÉ DAME (Rhythm Is It!). Savor the music of a dramatic and innovative score using the real-life sounds of the cities on the tour, masterfully recorded on location by acclaimed composer and sound artist SIMON STOCKHAUSEN: SOUNDS OF ASIA, the film's illuminating and breakthrough score fuses visceral audio from the trip and the Philharmonic's music into a single, mesmerizing whole.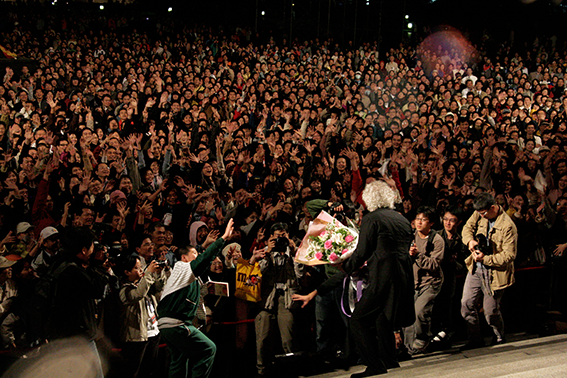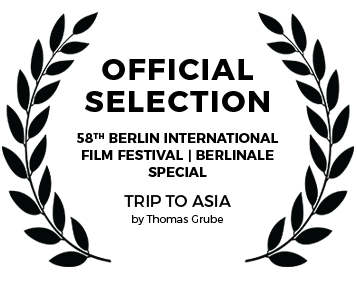 Team
A film by THOMAS GRUBE
Cinematography: RENÉ DAME, ALBERTO VENZAGO, ANTHONY DOD MANTLE, STEFAN CIUPEK, Sound: PASCAL CAPITOLIN, Bernd von Bassewitz, Montage: Martin Hoffmann, Music: Simon Stockhausen, Original Music: RICHARD STRAUSS, LUDWIG VAN BEETHOVEN, THOMAS ADÈS, Commissioning Editors: ALAN YENTOB, ANCA-MONICA PANDELEA, Line Producers: PETER HERMANN, MARC WÄCHTER, Producers: UWE DIERKS, THOMAS GRUBE, ANDREA THILO
A BOOMTOWN MEDIA production
in coproduction with: BBC and ZDF, Funding by MEDIENBOARD BERLIN-BRANDENBURG, FFA FILMFÖRDERUNGSANSTALT, BKM BUNDESMINISTER FÜR KULTUR UND MEDIEN
Released in cinemas by PIFFL (Germany), CETERA (Japan), FILMS SANS FRONTIÈRES (France), XENIX (Switzerland), AXIOM (UK), GUTEK (Poland), POLYFILM (Austria)
World sales by BOOMTOWNMEDIA INTERNATIONAL
Honors

DVD and Soundtrack
DVD and Blu-ray available by AL!VE.
The soundtrack and remix album "SOUNDS OF ASIA" available by AL!VE.