For more than 20 years, Uwe Dierks and Thomas Grube collaborate to realise their vision of creative films and their successful distribution.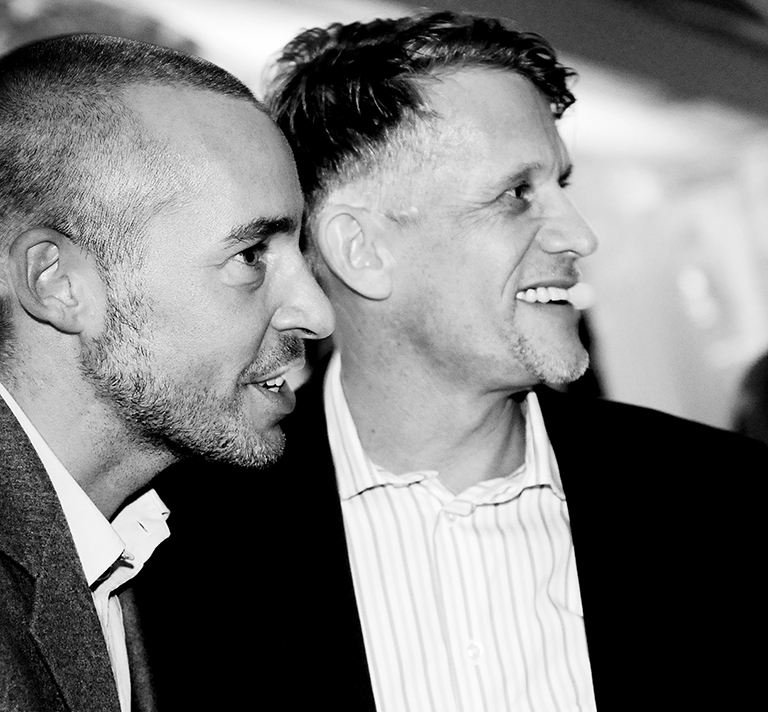 EST. 1999
---
Production
With WARSZAWA EXPRESS we trace the attitude towards life of young Europeans and contribute to the cohesion of Europe (Nomination Deutscher Fernsehpreis), the international cinema success RHYTHM IS IT! makes the importance of cultural education visible and provokes a movement in Germany, Austria and Switzerland (German Film Award and Bavarian Film Prize), the TRIP TO ASIA cinema experience shows how necessary music is for people (Hermann Voss Prize of the German Orchestra & Echo Klassik Award), the cinema documentary CINEMA JENIN tells the touching story of the construction of a cinema in the West Bank and makes the peace-giving power of culture come alive (German Peace Prize), the documentary THE AIDS WAR provocatively takes up a piece of contemporary history (Impact Media Award, Felix Rexhausen Prize, Media Prize of the German AIDS Foundation), TO FIGHT FOR is an inspiring feature film about young men who transform self-hatred in self-confidence and responsibility for their lives (German Cinematography Award). Together with the German Choire Association, for example, we ask WHEN DO YOU COME? and EXPERIMENT 150 is helping to advance the cultural transformation of a global corporation on all continents, or the commitment to ARTFUL LEARNING, an initiative of Leonard Bernstein that enables young people to learn inspired by the arts.
"Making a difference is an important motivation for our work, so filmmaking is not only the most exciting way to entertain people, but also the strongest to reach their hearts and minds."
Thomas Grube & Uwe Dierks
Coming soon
REBELS FOR THE OLYMPIC GAMES, a young and inspiring European generation and their rousing passion for an extraordinary discipline.
COMMUNICATION
We stand for a targeted and successful distribution of our films. Since 2006 we develop partner networks and communication strategies in our world sales branch BTMI Films. We work with international distributors and TV broadcasters as well as foundations and companies to build bridges.