THE RECORDING OF CARPENTER
CAMERON CARPENTER's 'International Touring Organ' celebrates its successful debut. For years Carpenter has designed the high-tech instrument with the American pioneers of Marshall & Ogletree, which has only one goal - to make its player free.
"IF YOU COULD READ MY MIND"
Konzertfilm von THOMAS GRUBE
GER/JAP, 45 min., HD, Stereo
CAMERON CARPENTER's first CD / DVD release with Sony Classical contains music by Bach, Bernstein, Dupré, Leonard Cohen, Scriabin et al. and was honored with the ECHO Klassik Award for "Instrumentalist of the Year".
Also on display: seven music clips (concert) that show Carpenter's virtuoso and breathtaking playing on his 'International Touring Organ', documenting the first album recoding on the brand new instrument,
Program
Leonard Bernstein - Overture to "Candide"
Frédéric Chopin - Waltz in D-flat major, Op. 64, no. 1 "Minute Waltz"
Franz Liszt - Grandes études de Paganini, No. 6 g-sharp minor, "La Campanella"
Alexander Scriabin - Piano Sonata No. 4 in F-sharp major, Op. 30
Johann Sebastian Bach / Cameron Carpenter - Cello Suite Elaboration (after the Suites for Cello, Suite No.1 in G major BWV 1007: Prelude).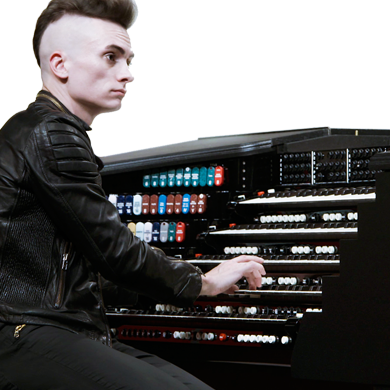 Press notes
"Bach, Bernstein, Piazzolla, Dupré, Scriabin – they all get the concentrated load of virtuosity and audacity with which this organ freak operates his hands and feet: The improvisations reach a level that brings the classic into the climes of rock, pop or film music sounds in. As the pedal sounds like a base drum, a cymbal arsenal conjures frosting, and Carpenter's music for an imaginary film brings incredible sounds to a full-fledged drama - sensational. "
ACHENER ZEITUNG, newspaper

"Cameron Carpenter, the new, classically trained superstar on the big organ, likes to pose rebellious. No wonder, he breaks the church music repertoire and sweeps across genre boundaries like a crossover hurricane. [...] He rocks and jazzs his instrument like a mega-orchestra - virtuoso, sensual, wild! "
AUDIOmagazine

"Fascinating!"
STEREO magazine

Team
A film by THOMAS GRUBE

Assistant Director: ESTHER LÖWE, Camera: RENÉ DAME
, Sound: HANNES MARGET
, Montage: THOMAS GRUBE, Music: COLLECTIF TRICOLETTE, CAMERON CARPENTER, LEONARD BERNSTEIN, JOHANN SEBASTIAN BACH, Line Producer: CHRISTIAN STRUCK, Commissioning Editors: ANCA-MONICA PANDELEA, MARTIN SCHNEIDER, KAYO WASHIO, Producers: UWE DIERKS, THOMAS GRUBE
A BOOMTOWN MEDIA production

in co-production with WOWOW and in collaboration with SONY CLASSICAL and ZDF/arte
World sales by BOOMTOWN MEDIA INTERNATIONAL
Honors
Soundtrack and DVD
CD inlcuding DVD released by SONY CLASSICAL.