RHYTHM IS IT!
250 children and teenagers, most of them with no experience of classical music, are rehearsing STRAVINSKY's 'The Rite of Spring'. What begins as a touch of variety amidst the school's daily grind has soon become an exciting journey of discovery, brimming with emotion for all concerned.
"YOU CAN CHANGE YOUR LIFE IN A DANCE CLASS"
Theatrical documentary by THOMAS GRUBE and ENRIQUE SÁNCHEZ LANSCH
GER, 100 min., HD, 35mm/DCP, Dolby Digital
Berlin-Treptow, January 2003. Something extraordinary is happening in the Arena, the old omnibus depot in the city's former docklands area. 250 Berlin children and teenagers from 25 different nations are performing IGOR STRAVINSKY's 'The Rite of Spring', choreographed by ROYSTON MALDOOM Maldoom and danced to the accompaniment of the BERLIN PHILHARMONIC Orchestra - the orchestra's first large-scale education project under its conductor SIR SIMON RATTLE.
RHYTHM IS IT! follows the fortunes of three young protagonists during three months of rehearsals - MARIE, struggling to pass her school leaving exams, OLAYINKA, a recently-arrived orphan and refugee from strife-torn Nigeria, and MARTIN, wrestling with his own inner problems.

With stubbornness and prodigious quantities of love ROYSTON MALDOOM and his team go about conducting rehearsals with youngsters, most of whom have no prior knowledge of classical music.
This is the start of a journey into uncharted territory, an exploration of the hidden sides of their personalities.
During the workshops the children experience highs and lows, trading uncertainty with self-confidence, enthusiasm with self-doubt.
The film's directors interweave shots of the workshops with scenes of rehearsals with the BERLIN PHILHARMONIC - a unique and thrilling glimpse behind the scenes of the Orchestra at a key moment in its history. Its first season under the baton of SIR SIMON RATTLE marks the start of a new era, one in which the Philharmoniker players bring their work beyond the confines of the concert hall and into the public domain.
"Music is not a luxury. It's a necessity
and people need it like the air they breathe and the water they drink."
SIR SIMON RATTLE, conductor
With seeming nonchalance the directors include in the documentary the dramatic career trajectories of Simon Rattle and ROYSTON MALDOOM, who has been organising dance projects in socially deprived areas for the last 30 years. Both artists' biographies culminate at points leading directly to the gymnasiums and rehearsal rooms that are the backdrop for the efforts of these young dancers as they juggle passion and contradictions in rehearsing for 'The Rite of Spring'.
RHYTHM IS IT! is a moving declaration of love to the teenaged dancers and their mentors, a film about the hold music can have on people, a cinematic experience packed with passion, respect and joie de vivre.
Press notes
"An absolute powerhouse of feelings! It's not possible to leave the movie theater without being in a good mood, and feeling inspired."
FAZ Frankfurter Allgemeine Zeitung
"A declaration of love to dancing teenagers, an homage to Royston Maldoom and Sir Simon Rattle - and a clear endorsement of the importance of music!"
Welt am Sonntag
"This emotional movie tells the stirring tale of respect, tolerance, love and passion, and proves that it is worth using unusual methods to connect the beauty of music with social commitment."
Financial Times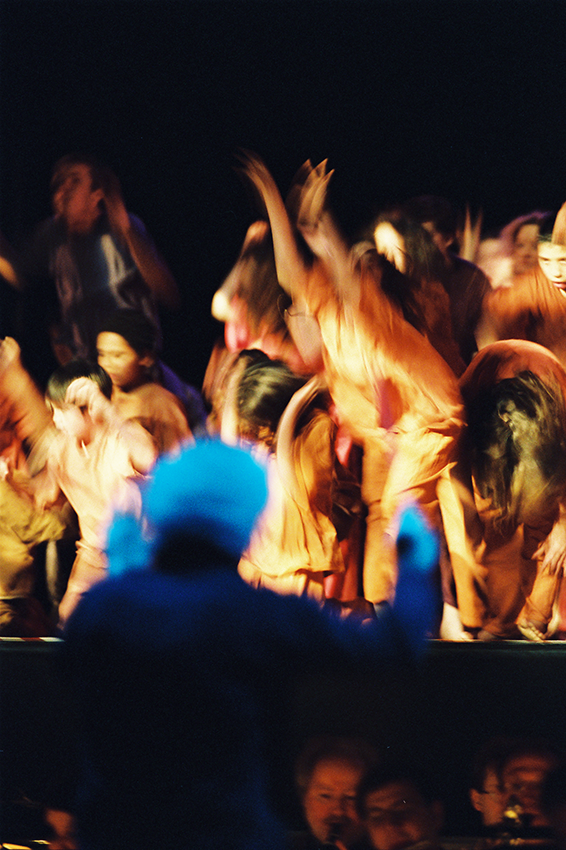 With
250 YOUNG DANCERS FROM BERLIN, BERLINER PHILHARMONIKER, SIR SIMON RATTLE, ROYSTON MALDOOM, SUZ BROUGHTON, MARIE THEINERT, MARTIN EISENTRAUT, OLAYINKA SHITU, FASTER THAN LIGHT DANCE COMPANY, VOLKER EISENACH and many more.
Team
A film by
THOMAS GRUBE and ENRIQUE SÁNCHEZ LANSCH
Wrtiten and directed by: THOMAS GRUBE and ENRIQUE SÁNCHEZ LANSCH, Cinematography: RENÉ DAME, MARCUS WINTERBAUER, Sound: PASCAL CAPITOLIN, MICHAEL LAUBE, Montage: DIRK GRAU, MARTIN HOFFMANN, Score composer: KARIM SEBASTIAN ELIAS, Original music: LE SACRE DU PRINTEMPS by IGOR STRAVINSKY (1882-1971), Commissioning editors: Dorothea Diekmann, Søren Schumann, Coproducer: FRANK EVERS, Producers UWE DIERKS, THOMAS GRUBE, ANDREA THILO
A BOOMTOWN MEDIA production in coproduction with CINE PLUS and RBB | Arte, in collaboration with ZUKUNFT@BHIL and DANCE UNITED, funded by FFA and MEDIENBOARD BERLIN-BRANDENBURG
World sales by BOOMTOWN MEDIA INTERNATIONAL
Honors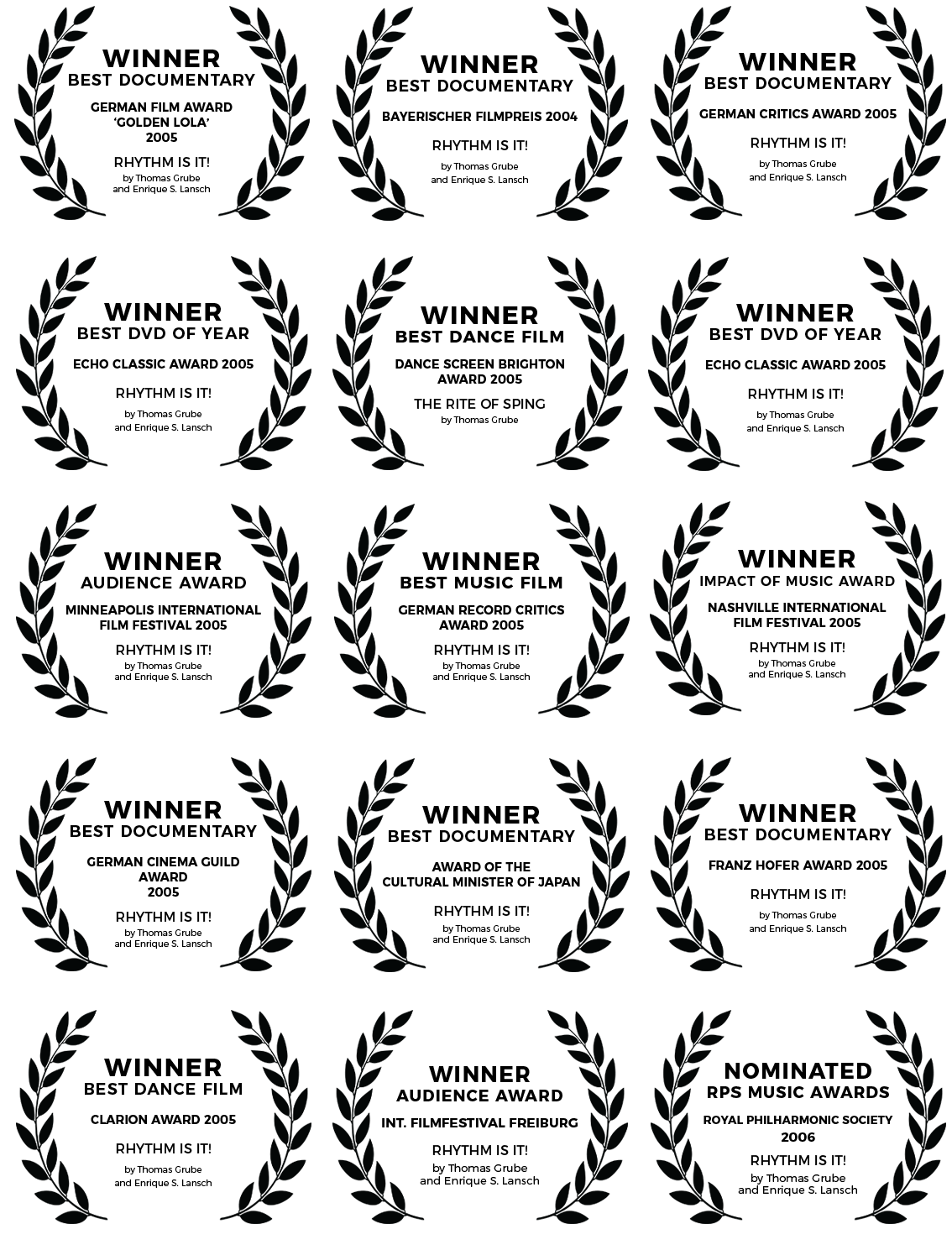 DVD and Soundtrack
Die DVD zum Film ist im Handel erhältlich
im Vertrieb von AL!VE.
Der Soundtrack zum Film ist im Handel erhältlich
im Vertrieb von Naxos.